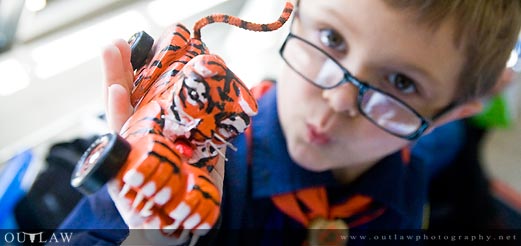 "You have a choice. You can grasp that stone of 'best, better, good, not good enough' and let it sink you. Or you can put it down beside you and keep [shooting]. Only you can allow yourself to feel small next to someone you believe is bigger. And only you can choose to see in someone 'higher up' than you the beacon of possibility for your own [photography] life." – Sage Cohen, paraphrased from The Productive Writer
There is one way and one way alone that your competition can kill your business – and it's entirely your fault.
It's time to make a choice: you're either going to obsess or observe from this day forward.
Are you going to obsess over your competition – what they're charging, how nice their art is, which of your potential clients they're shooting – and place your mental focus and energy outside of what you can control?
Or are you going observe your competition as another of many resources to learn from, and focus your energies on your betterment and what you can control?
Some of the most discouraged part time professional photographers I visit with are facing the challenge of two major struggles:
– Landing their first paying clients or establishing a consistent client base;
– and learning to disconnect their art and success from the art and success of other photographers.
Especially here in the digital age, we artists do not exist in a vacuum – both blessing to our muse and curse to our lizard brains, we are exposed to an unlimited amount of inspiration. This can serve to motivate us, and it can serve to dishearten us, when we see how much potential exists – and how long the road is for us to realize it within ourselves.
We are at our most vulnerable when we've finally taken the leap and put ourselves out into the world as professionals – via web site, blog, portfolio, business cards, advertising, or other means – and the phone just isn't ringing (yet).
These yin-yang balance issues never go away – surely I face them as often as anyone – but with experience and temperament, we can learn to channel these energies into ever-forward progress as both artists and business owners.
Your Clients Are Not My Clients
Market share is your percentage of the total number of dollars getting spent every year on portrait photography in your community.
You're up against the cheap chains like Walmart and Sears Portrait Studios.
You're up against the more expensive mall chains like Kiddie Kandids, Portrait Innovations, and old-school shops like Olan Mills and Glamour Shots.
You're up against other start-up photographers like yourself, inspired by the opportunities for artistic and financial success in the digital age.
You're up against established professional photographers who haven't had to market themselves in decades because of their longevity and awareness in your community.
You're up against Canon and Nikon and Sony and Olympus, all trying distressingly hard to convince your clients that, with the right camera, Mommy and Daddy can make their own 'professional-quality portraits'.
And you're up against dozens of other consumer options serving every niche and income bracket in your area.
When your phone isn't ringing, it's easy to look at how busy your competition is and lose motivation – and hope.
So where's the opportunity?
Everywhere.
Everywhere you look – in every industry, not just photography – good folks paying good money are being underserved.
The indifference of the chain studios, almost entirely staffed by teenagers and twenty-somethings who have no interest in the art of photography; only the consistent repitition of what they were taught.
The arrogance of the established professionals, whose high prices, draconian rules and policies leave their clients feeling more like parolees than valued clients.
The bait-and-switch of those start-up photographers only interested in making money – and not creating art or serving clients.
The booked-solid schedules of the truly great photographers in your area, who only can accept a few new clients a year because they know how to always give more than they get.
And not to be discounted, the deep rut of the photography industry that has done nothing to invite the non-buying remainder of the market in the door.
The greatest portion of any market – but for staples like milk, bread, and iPhones – are the folks who buy nothing at all.
You're going to find your people, the folks who are ready to pay what you ask for the art you're able to create now, in this landscape of underserved folks deseperate for a breath of fresh air.
They're out there – and they want to work with you. They appreciate and value your style and art, their budgets line up with your humble pricing, and their personalities are a perfect fit for yours. They just have to get to know, like, and trust you.
You'll win business with your enthusiasm. You'll win it with your customer-friendly policies, with the consistent art and experiences you create for your clients, with the flexibility of your scheduling, and with your efforts to reach out to the overall market that has long been disenchanted.
Recognize that the success of your competitors is proof that the market is alive and vibrant – then study where your competitors leave your market underserved. This is where your best opportunities can be found.
Maybe they charge too much.
Maybe their art is old-school and repetitive.
Maybe they force clients to pay, through session fees or minimum orders, for art that hasn't even been created yet.
Maybe they're too busy for small shoots.
Maybe they don't specialize in your niche.
Maybe their web sites are ugly, hard to navigate, don't prominently feature their phone number, and don't even say what geographic area they serve.
Maybe they're marketing to the big 3A high schools, and ignoring the smaller market of the seniors in the two little 1A schools.
Maybe they're not marketing at all to the local day cares and private schools.
Maybe they're so established, they've stopped trying.
Maybe they don't sell hi-res digital files.
Maybe they only sell packages.
Maybe they don't market to high school seniors.
Maybe they don't market to mothers of newborns.
Maybe they don't market to pet owners.
Maybe they don't do volunteer photography for their favorite charities.
Maybe they're not helping cover local high school sports and theater for their community newspaper.
Maybe you're fiesty, and going head to head with another photographer in their niche would is just the motivation you need to do your best work.
Maybe there's a lot more opportunity to break open your market than you thought.
Don't let your competitors' success deter or deflate you – take aim at your dream, take stock of who you can study and learn from, then take your butt out of that chair and work daily to improve in art and business and marketing until you are the photographer your competitors envy.
Your Art Is Not My Art
What a strange reaction we have to seeing art far better than ours: first, we're in awe, inspired, motivated to grab our camera and go be brilliant.
Then, we're struck with the reality that we can't – yet – create such art. The lighting, the pose, the expression, the background, the location, the wardrobe, the colors, the moment – all the ingredients that make this feast for the eyes, we don't yet know how to put it all together.
Creating an amazing photograph is every bit an act of preparation, intention, and preternatural timing, as preparing a five-star meal.
There is a reason there are cooks, and then there are chefs.
Just as there are photographers, and then there are artists.
The beauty in this, is the opportunity – no one ever made head chef without burning a lot of pancakes along the way.
And to become the artist we dream of, on the level of those we admire most, we'll have to shoot a lot of horsesh*t along the way.
Poor exposures, ugly lighting, unflattering poses, distracting backgrounds, confused expressions, out-of-focus blurry messes – we're going to screw it all up before we get it right.
As Kanye would say, you gotta crawl before you ball.
Poet Sage Cohen writes in The Productive Writer that allowing yourself to indulge hierarchal thoughts – who's better or worse than you as an artist – causes your lizard brain to kick into self-protection mode and stop you cold where you stand.
You have to consciously engage this feeling of being a fake, a charlatan, a joke, a rank amateur – you have to recognize this feeling for the displaced protection mechanism that it is and reclaim control over your ego from the Resistance that's battling you. Pushing through these feelings is a purposeful act of will.
"All you need to worry about (or, rather, enjoy) is your own good, better, and best, because that's what belongs to you. Do you see yourself making progress toward your goals? Can you appreciate your own tenacious spirit that simply stays focused on where you're headed? Don't distract yourself with feeling bad about what someone else is doing when there is so much to feel good about that is right in front of you." – Sage Cohen, The Productive Writer
Allow yourself to observe and study the most successful photographers in your market, and in the world – learn from them, their marketing, their art, what you see as their best methods for bringing clients in the door.
But disconnect your success from theirs – every photographer walks their own path, establishes their own foothold, and earns the business of clients who uniquely and perfectly fit their art and personality.
There are people out there right now who are ready to pay you for your art and experience, at whatever level that may presently be. The professional portraiture market is a broad one serving all incomes and demographics – through ever-better marketing, and patience, you'll find your clients.
Your people are waiting.
While you seek them out, use this time to learn, practice, and grow.
Every day that you purposefully improve as an artist and business owner – no matter how small those improvements – you're opening wider the doors of possibility and success. You're making real, tangible progress toward your dreams.
Never lose sight of the fact that your success is equally your clients' success. The better you are at what you do, the greater value you give to those you serve. Your artistry is a blessing to those with whom you share it, and as a professional, your clients are happy to bless you and your family financially.
Being a paid professional photographer never was and never will be about getting what you can out of people – but, far better, giving all you've got, and reaping what you've sown through your practice, preparation, and perseverance.
You're all that's holding you back.
Let Go – and Go Hard.
Next Steps
Do you have a favorite photographer? An artist whose work in your niche you absolutely love, that moves and inspires you, and you would one day love to be on the same level as? Go to their web site right now. Find their e-mail address. Write them – tell them you're an aspiring professional photographer, that you're a big fan of their work, and ask if they have any tips or resources to share that helped them get where they are today artistically. If they don't respond in a week, pick another favored photographer. Keep going until you find someone willing to share their experience with you. And then keep going farther – find lots of photographers you love, and ask every one for their best advice. Grow faster as a photographer by skipping the learning curve and engaging folks who're already where you want to be as an artist.
Pick the top three photographers in your market, specifically within your niche, whose clients you would love to court (realistically – don't aim at the most luxurious boutique in town). Drill down and study everything about them – marketing, web site, artistic style, pricing, call and check out their phone demeanor and response time, do a shoot with them as a client if it's affordable – and try to find their weakness. If you recognize people from their portfolio or blog posts, ask those folks how they liked working with that photographer – and what they would like to have seen different. This is reasonable and warranted market research – this is how you identify competitor weaknesses and learn how you can better serve your clients (and theirs).
Brainstorm session: get out your pen and paper and write down all the ways you can better serve your clients than you have in the past, then how better you can serve them than your competitors. Odds are, you'll recognize many ways in which you may have been underserving your own clientele. File this away in your Brainstorms folder.
This post's inspiration comes from poet Sage Cohen's book, The Productive Writer. While specific to authors of stories and books and poetry, Sage gives great advice that can be applied to the fears, production, publication, life-work balance, struggles and successes for artists of all walks.
My writing at PartTimePhoto.com exists to serve your needs as an amateur photographer making the transition to paid professional. I appreciate and welcome your readership, and invite you to subscribe to my e-mail newsletter at the top of any page of this site.
If anything in this post has spoken to and inspired you, please comment below, drop me an e-mail, or call or text me at 830-688-1564 and let me know. I'd love to hear how you use these ideas to better your part time photography business!
Similar Posts: