My business sense and my technology lust often find themselves in severe conflict.
Apple's official unveiling yesterday of the new iPad tablet computer is yet another case where I find myself trying a little too hard to justify a tool as a worthwhile investment for part time photographers. A sure sign of lust over love.
As with any tool, It's All In How You Use It (TM!).
Pro Argument – The ultimate portfolio
Scott Bourne at Photofocus hit the nail on the head with his initial assessment of the iPad; for the foreseeable future, the Apple iPad will reign as the ultimate portable portfolio for photographers and other visual artists.
Apple already showed how slick photo viewing could be with the iPhone. Bourne says he has picked up numerous shoots using his iPhone as a portable portfolio, and I can back that up; it's one thing to hand someone a business card, and another thing entirely to hand them your iPhone with your portfolio presented with music and animation.
Apple knows how to make it easy to look good.
The iPad is going to bring this ease and intuitive design to the presentation of your photography portfolio. If the iPhone's little screen can land clients, imagine the impression you can make with 9.7 inches of beautiful screen real estate.
If you get a notable amount of your business from 'F8 & Be There' marketing (physically being where your clients are), the iPad will only multiply your returns.
Besides the carry-and-show portable portfolio scenario, imagine how this thing will look on a stand showing your images at events.
Is shooting local high school sports a part of your senior marketing mix (article forthcoming)? Set up your iPad to display animated slideshows and videos of your work with a stack of business cards at the concession stand. Or put a good screen protector on it and invite people to flip through photos on their own. Same goes for any kind of event.
If you sell prints from events like this, I can see a good season's worth of increased print sales helping the iPad pay for itself, not even counting the increase in portraiture inquiries. During halftime or a break in the event you could visit with people at the concession stand and have an immediate ice breaker.
Differentiation is a big part of growing your client base in a competitive market, so if you start getting buzz from walking around and showing off your work on an iPad, you're making waves that your competition is not with their printed portfolios, if they even have them.
The iPad can definitely help you build your client base one person at a time, which is a method I am a huge advocate of.
Seven ways I can see the iPad paying for itself as a photography business tool:
Proofing: The iPad costs less than most projectors or laptops and will give you a unique and stylish way to do a proofing and sales session with your clients on location. With a gorgeous landscape+portrait screen, intuitive controls, photo+audio+video capabilities, and slick presentation build in, the iPad is the perfect setup-anywhere sales tool. If you don't have a home or retail studio sales area with couch, desktop, projector, and mini bar, the iPad is by far the best value you can get in a sales presentation tool. When you're pinching, pulling, and sliding images around, clients will be impressed.
Portfolio: As mentioned above, the iPad will let you show off your images to anyone whose eyeballs you can wrangle, and it will leave a big impression on them. As great culinary artists will attest, presentation is as important as the product.
Access: In relation to having a portable portfolio with style, the iPad for years is going to be a popular item that draws interest. Carry one around or be seen using it and you'll have an instant common point of discussion with most people. Ever notice, if you carry around a dSLR, that people are very comfortable in approaching you and asking about the camera or photography in general?
Booking: With this one tool in one place at one time, you can show off your portfolio, look at your calendar and book a shoot on the spot, collect a potential client's information, do a pre-shoot consultation and show them examples of wardrobe and accessory choices, and e-mail them a copy of your pre-shoot checklist for clients and latest newsletter. Can you do all this with a laptop? Yes, but you'll look like an egghead. Can you do it with a smartphone? Yes, but you'll look like a dweeb. The iPad lets you do all this with style. Again, presentation.
Display: Set this thing up to play a slideshow of your images and promotional videos at any event with a stack of business cards. Let the iPad sell your work for you. An iPad on a display stand is vastly more approachable than an open laptop.
Ease-of-use: When a tool is easy to use, you're much more likely to use it. I was completely prejudiced against the iPhone…until I used it. Then I bought it (for $100 less than the iPad starts out at). Then I loved it. Owning an iPhone has been revolutionary for me, in the access I have to communicate with people and in how I use little bits of free time. Keeping up with e-mail, MySpace, blog reading, the news… Having connectivity anywhere, and absolute ease in making use of it, has brought far more value to my business than what I shelled out for the tech to enable it. If the ease and fun of using an iPad helps you to keep your photography business' blog updated, to tweet daily, to get out that monthly e-mail newsletter, to be seen by and around your target market, to market on MySpace or Facebook – and enjoy it – then you'll reap great rewards from owning an iPad.
Impression: I've touched on this several times already, but it bears repeating: the iPad will let you make an impression on potential clients unlike anything else in its price range – and you can make that big impression anywhere. You don't have to buy a billboard, you don't have to haul around a 30" monitor or projection screen, you don't have to boot up a laptop, you don't have to set up a kiosk, you don't have to court around a one-trick-pony printed portfolio, you don't have to limit yourself to still images, you don't have to buy presentation software and learn to use it, you can change the contents and presentation on the fly…and look like a modern, savvy professional while doing it.
Con Argument – Keeping the purse strings drawn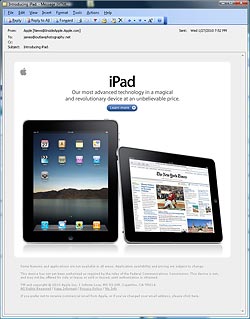 As much as I advocate investing in tools that make your life as a part time photographer easier, more fun, and more profitable, I also believe wholeheartedly that one of the ways to guarantee success is to vigorously control expenses.
Looking at the forums of eloquent discussion between photographers online, one would think that professionals spend more time arguing and debating than actually taking photos. "What should I buy next?" is always a hot topic that draws mountains of sage advice; it's easy to spend other people's money.
The quickest way to double your money is to fold it and put it back in your pocket, according to the great Will Rogers.
Before your fall in lust with any piece of potential camera kit or marketing mix, you have to compare what you'll gain to what you've already got.
If you are specifically not the type to go around with your portfolio, showing off your photos and landing clients because of it, the iPad is going to be more of a luxury purchase than a smart business one.
Showing off a portable portfolio to people is certainly an effective method of marketing, but if you're not that outgoing, it's going to be real hard to argue your returns on a $499 tablet computer. You probably can't edit photos nearly as well as on a desktop, the hard drive isn't much larger than your camera's memory card, and it's easier to type venomous posts in the forums with the honest keyboard of a laptop.
The iPad is a beautiful piece of tech, a revolution, doubtless a real pleasure to use… But as a valuable and necessary part of your part time photography business, if not for visceral punch with potential clients, there isn't anything it can do for you as a photographer that comparably-priced alternatives don't trump.
Here's a list of 10 other worthwhile ways you could invest five benjies into your business (based on Jan. 28, 2010 prices):
Save it: Put those $499 back in the bank. Stick it in savings. Hold onto it for a rainy day. Guaranteed, at some point in your professional career, you will need it. [You weren't thinking of buying your iPad on a credit card, were you? O_o]
Lens: Freshly-minted professional photographers often lose sight of the value of good lenses behind the sparkling glare of features found on new camera bodies. I've seen many photogs walking around with $1,500 camera bodies and $50 kit lenses on the front. Lenses hold their value better than any other gear you can buy, and even a cheap dSLR will benefit from having good glass attached. My favorite under $500 is the Tamron 17-50/2.8.
Camera: A lens is only a good purchase if you have something to put it on. If you're still sporting a point-and-shoot camera, assuming you've about mastered its use, stepping up to a good dSLR will open up a new realm of artistic opportunities for you. Going from P&S to dSLR is a challenging step (learning how to control depth of field alone will set you back a month), but it will by far raise the ceiling on your artistic growth and image quality. My pick at $499 is the Canon Rebel XS with kit lens.
Computer: As professional photographers, we spend as much or more time sitting at a computer as we do taking photos. Upgrading here will let you work more efficiently and quickly so you're spending less time waiting for pics to load and more time shooting or marketing. $499 goes a long ways these days with both laptops and desktops; if you want to do presentations, in-person location proofing and sales, or just prefer to stay out of the house, go for a laptop. Otherwise, you'll get more power for your buck with a desktop. I like Gateway, myself.
Monitor: On the same token, with as much time as you spend in front of your computer, a good monitor upgrade will give you more screen real estate to work with, less eyestrain, and better color reproduction. Pick one up with a decent color calibration tool to have confidence when processing that what you see is as true as possible. You can pick up a gorgeous LG 27-inch or Samsung 25.5-inch with cash left over for a calibration tool such as the Spyder3Express.
Software: $499 won't quite get you to a full copy of Adobe Photoshop, but you can easily pick up Lightroom 2 + Elements 8 and get 95% of the benefit for a third of the price. Grab Scott Kelby's Lightroom 2 for Digital Photographers and Elements 8 for Digital Photographers and become a master of your software domain. $250 will get you a year's worth of unlimited Animoto videos for commercial use, which if you make use of it, will impress the heck out of your target market and even give you a new line of products to sell.
Marketing: Much as I push free marketing through social media and being in front of potential clients, $499 can have long legs with paid marketing if you use it right. Consider a monthly direct mail campaign to the homes of 50 potential high school senior photo clients, weekly classified ads in the services section of your local newspaper, small weekly display ads in the sports pages of your newspaper, a banner ad on your Chamber of Commerce or newspaper web site, or a co-op marketing campaign / contest / program with several businesses that serve the same area and market as you (families, seniors, new parents, etc.). For $499, if you target tightly, you should be able to get a year's worth of exposure in front of potential clients.
Education: Five benjies will take you a long way with books, e-books, magazine subscriptions, instructional DVDs, professional association memberships, and workshops (if you spend your dollars wisely). Invest in resources that will broaden your business, marketing, and artistic horizons. There are hundreds of good options here, but to name just a few: the Duct Tape Marketing book, W Magazine (massive fashion magazine full of inspiration), any PartTimePhoto e-book (all I need to do is write one!), Lynda.com for Photoshop tutorials, your local PPA guild, PPA Super Monday workshops…this list could go on and on and on.
Business: Drop that $499 on getting your business in order. Score some time with a good accountant to make sure you're handling your finances, budget, and taxes right; invest in a nice portfolio web site or WordPress theme; get your logo designed; get your business cards designed and printed; then set up your e-mail marketing and integrate it into your web site and every part of your business. Get all your ducks in a row so that you can concentrate on showing love to your art, to your market, and to your clients. With a solid foundation and the confidence it provides, you can quit worrying and start working.
Health: Call me too holistic if you want, but I will never shy away from saying that taking care of your health is as important to your business as taking care of your art and your marketing. I know from experience that when you're overweight and out of shape, it affects every facet of your life, including your ability to do your best work in your business. $499 invested with a personal trainer to talk about exercise and diet will give you a lifetime's worth of beneficial knowledge. With the leftover cash, schedule a visit with a dietitian and sign up for a local yoga class. These can be personally challenging steps to take, but just like with knowing your business is well taken care of, the confidence you have from knowing your body is taken care of will pay dividends artistic and financial.
So am I going to buy one?
Hell yes I'm going to buy one.
Even though at this point, having like most people yet to even touch the thing, my impression of the iPad is that it's a really big iPod Touch / iPhone.
But after my conversion from a non-believer to a devout iPhone user, I have faith in Apple that once the creature is in my hands, I will find the return on investment to be far higher than I could have imagined.
I'm a very social and outgoing kind of guy, so the iPad is a perfect match for my personality. If it does nothing but replace my Dell netbook, with its cataclysmically-placed apostrophe key, it will earn its keep.
Stylish mobile blogging, portable portfolio, wow factor with clients, proofing and sales sessions at Dairy Queen over Reese's Peanut Butter Cup Blizzards…
…oh yes. I think so.
Next Steps
Hurry up and wait. If you want to buy an iPad or read real-world reviews of how well it works in the hands of professional photographers, only time will tell.
Brainstorm: What are all the ways you could make use of the iPad's unique features (style and impression being valued features) to improve your photography business? Where could you possibly better invest your $499? File this in your Brainstorms folder.
PartTimePhoto.com is your source for real-world advice for part time professional photographers from a part time professional photographer. If you like what you read here, please don't hesitate to click the free "Subscribe" link at the top of any page of this site.
Are you excited or deflated by the possibilities the iPad brings to the photography industry? Did I miss any good $499-and-under investment recommendations? Leave a comment below, e-mail me, or call or text me at 830-688-1564.
Similar Posts: