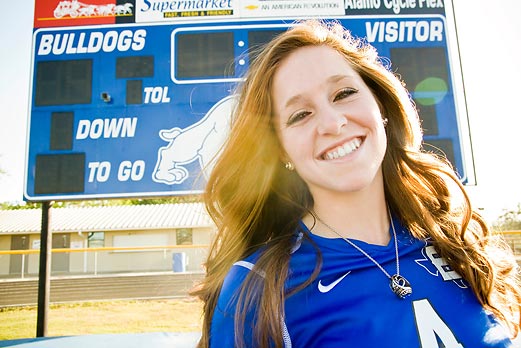 "Want to save on your next John Doe Photography photo shoot?
I have a few open bookings on my April calendar, and I'd like to get those filled – even at a deep discount.
So I have two half-price gift certificates available: normally valued at $200, today you can pick up a gift certificate good for a 30-minute session and 10 hi-res, fully processed files on CD for only $99.
If you've been thinking about a professional photo shoot for your family, or you need the perfect, thoughtful, custom gift for a family member or friend, this is the opportunity you've been waiting for.
These 50%-off certificates go fast, so send me a PM with your e-mail address quickly and I'll e-mail you a simple PayPal invoice to make your purchase.
Thank you for welcoming my art and business onto your Facebook timeline!"
If you've ever needed to generate a little extra cash flow, or book up some quiet dates on your shooting schedule, a gift certificate offer on social media can get you back to booked solid with paying clients, even if those folks are paying less than your typical rate.
You should stay booked solid year-round, even if a portion (large or small) of those shoots are discounted or portfolio-builders (slash testimonial magnets, slash social media share-makers, slash referral-generators).
I'll do two gift certificate sales a year, once for Black Friday when the market already has a fever to spend money, and once whenever I want to (admittedly, when there's some tech 'thing' I want to spend a few hundred dollars on).
Timing is important:
I'll try to post a sale like this when my clients are home with their spouses (after work and commute but before dinner) so both decision makers are present;
I'll post around the first or second of the month (most everyone is paid on the last day of the month or first of the month);
I'll post when the weather has been nice (makes the thought of a location shoot more attractive), and;
I'll post when there's a 'good excuse' to buy (usually within a week of a big holiday for a last-chance, fast-turnaround solution).
It's more common sense than insight, more art than science, but it makes a difference on your returns.
The verbiage and numbers used above are just an example – plug in your name and prices and certificate details accordingly.
I like to go all-digital and offer a shortened session time for gift certificate shoots so my overhead is minimal on a discounted shoot. If I'm getting amazing shots or I'm really connecting with the client or I feel like getting more practice and experimentation in, I'll extend the shoot out as much as I want – after all, the more great images I make in greater variety, the more reasons my clients have to spend a little extra and get a full CD of images or upgrade to some nice wall art.
Next Steps
Brainstorm three low-cost, high-value gift certificate packages that you could offer to potential clients, each at a different price point: low, medium, and high ($49, $99, and $199 for example). How long would each session be? How many images would be included? How many locations can you shoot in that time? Use Microsoft Word or Canva or some other simple tool to create some attractive certificates with those packages.
Considering those decision maker (time), paycheck (date), and 'good excuse' holidays (time of year), schedule three gift certificate sales for the next 12 months; for each sale, offer only one price point of certificate – either low, medium, or large – not all at every sale. Consider when, why, and for whom each price point is most attractive and schedule your sales when and how you can best reach those target clients.
If nobody is asking you for a donation to their silent auction or fundraiser, you're not reaching out enough and showing what you have in place to help your local non-profits. Do a little legwork, watch your local newspaper, and see where there may be opportunities to donate your gift certificates to do good for those non-profits – and really work the opportunity. Have a great display, limit the number of certificates you donate each year (more based on how solidly you're booked than anything else), get every ounce of networking out of each donation as you can, and be creative in finding mutually-beneficial arrangements: who does the portraiture for the church leaders? Who does the board's annual portraits? Can you be the official photographer for the fundraiser event? Can you set up a 'photo booth' and collect e-mail addresses to later send the photos to the subjects?
Brainstorm session: Get out your paper and pen. Are you booked solid? If you're trying to get 52 bookings a year, how many short of that goal are you? How many free booking dates could you potentially upgrade to paid shoots with a gift certificate sale? Are there more you can spin off as gift certificate donations? What local non-profits would you love to help? What local non-profits involve your target market? Where are the opportunities to get booked solid doing more than just free portfolio-building shoots? File this away in your Brainstorms folder.
My writing at PartTimePhoto.com exists to serve your needs as an amateur photographer making the transition to paid professional. I appreciate and welcome your readership, and invite you to subscribe to my e-mail newsletter at the top of any page of this site.
What's the biggest struggle holding you back right now? E-mail me your answer (yes, right now!), and let's make a breakthrough today.
If anything in this post has spoken to and inspired you, please comment below, drop me an e-mail, or call or text me at 830-688-1564 and let me know. I'd love to hear how you use these ideas to better your part time photography business!
Similar Posts: