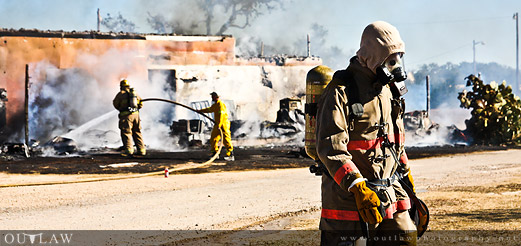 As a newly-minted part time professional photographer, it must take years of hard work, advertising, and great word of mouth exposure to get some face time with the truly influential leaders in your community…right?
Hell naw.
By partnering up with local non-profits, getting involved with their volunteers, events, and boards of directors, you will quickly make a name for yourself both as a photographer and as someone who gives back to good causes in your community.
Let's get the ethics question out of the way: Is it bad juju to 'use' charities as a marketing method?
In any relationship of give and take – whether that's money changing hands between a client and you as a service provider, or between a volunteer and a charitable entity – there is an exchange of value.
Between you and your clients, they're handing you cash in exchange for the value of the art and experience you provide them.
Between a volunteer and a non-profit, the volunteer is providing their time and talent and the non-profit is providing a venue to help that volunteer use their talent for a good cause. The volunteer gains satisfaction, self respect, good karma, and good vibes within that non-profit group.
Donating your time and talents to non-profits – membership directories, event photography, promotional / PR photography, 'commercial' photography for their advertising – provides the receiver with the skilled work of a professional. The giver, yourself, gets the personal satisfaction of helping out a good cause, and the professional benefit of good word of mouth within that group.
So long as both parties agree on an exchange that benefits both parties, there is no ethical question – you're both getting far greater benefit from working together than from the nothingness you both started with. If you do event photography for a non-profit charity ball, and you're listed as the official photographer in the program and advertising, both parties have come away with something of tangible value – they get your great photos, you get their kindness and great word of mouth.
And make no mistake, word of mouth within the circles of volunteers and non-profits is some of the best you can get. The quality of the people is near-universally top-tier, and the folks who are a part of these non-profits from the volunteers to the directors, are the movers and shakers in their circles. Some of the most prominent (and, likely, wealthy) members of your local business community are the same people who sit on the boards of these non-profits.
When you make an impression on them, they will talk – and when they talk, people truly listen.
The guy in the Statue of Liberty suit waving a "GET YOUR TAX RETURN TODAY!!!" sign at me as I fly by on the highway won't get me in the door – but if the fellow who sits next to me on the board of the local business association says, "Hey, you need to check out John Doe for your taxes – he's top drawer," my ears are gonna perk.
Non-profit partnering opportunities
Here are some ways you can partner with local non-profits to benefit your community and your bottom line:
Event photography – Most non-profits put on a variety of events like fundraisers, galas, open houses and such every year. Ask to be the official photographer for the event, and then just cover it like you would any event or wedding. Capture the important players, the memorable moments, the peak action, the smiling faces, and like a good photojournalist, really tell the story of the event with your photos. Post the album of photos on your blog and Facebook for folks to enjoy and download, and provide a CD of hi-res, fully-processed images with a license release for their PR and marketing. As always, the better work you do, the bigger an impression you'll make.
Be a part of the event – Another angle to take on being the photographer at an event is to make your photography a part of the event. If it's a community event, set up a photo booth / scene and take photos of attendees for a price – say, $5 donation to the charity nets a hi-res, fully processed digital file e-mailed within a day or so (here's a good opportunity to ask for the opt-in from folks for your e-mail newsletter). If it's a more exclusive event like a gala, don't charge – just take fun photos, collect e-mail addresses, and make a good impression.
Donate photo packages for silent auctions – Silent and live auctions are as common as baked goods and iced tea at benefits here in Texas. Folks donate pies, art, guided hunting trips, even port-a-potty rentals. Get in on the action by donating a gift certificate for a shoot plus a set of digital files (I like to offer 10). The buyers at these benefit auctions are often from the wealthier end of the community, so besides helping raise money for a good cause, you'll get good exposure during the event and face time with a potentially lucrative client after.
Hold your own fundraising event – Instead of tagging along on a preexisting fundraising event, coordinate with your chosen non-profit and put on your own event. Think about your holiday scene 'events' – photos with Santa, photos with baby chicks and rabbits around Easter – and do something with the same structure. Partner with a local high-traffic business to host the event (the local grocery store here in Bandera gets plenty of daily visitors), get the word out in advance in the local newspaper and on Facebook, have a set time period for the event, and just set up a scene and shoot. Marketed well, you'll get a flood of folks in front of your camera. Sell flat-rate digital packages so you can just mail or e-mail buyers their images – costs you next to nothing. As always, use this opportunity to get folks to opt-in to your e-mail newsletter.
Create a simple gift certificate fundraiser program – Remember selling candy bars and other sundry foodstuffs to raise funds for some extra-curricular trip back in school? Same concept here. Allow your chosen non-profit to sell discounted gift certificates for your photography services, then split the take with them. It's hard to beat having a team of motivated salespeople out working hard to get you new business. Again, if you stick with digital packages, you'll limit your personal costs from the fundraiser. Also, if you only do X shoots per week, be sure you set an upper limit so you don't get flooded with more clients than you can handle. If there are wide-eyed children involved, odds are you'll sell out fast.
Commercial photography – Offer to create fresh, effective new photography for your chosen non-profit's PR and marketing. This could be anything from headshots for the directors to a full-day commercial shoot to create exciting new art for an upcoming campaign. Make this a team effort with other talent in your community to put on a full-fledged commercial photo shoot without a penny of cost. Hair, make-up, wardrobe rental, props, locations, permits, models – all can be had for free when you're working together for a good cause. Be the team leader, though – coordinate and direct the shoot yourself, take responsibility, and earn the respect and good will of your peers. Your art will be the final product of everyone's work, so nail it, and then give everyone involved copies on CD.
However you choose to share your talents with the local non-profit community, make sure the resulting photos end up in the local newspaper – along with your byline!
Where to find non-profit partners
If you've been out and about in your community, or read your local paper, you've probably come across countless charities that could make use of your services.
Try to offer your services first to charities that speak to you personally, and whose volunteers or beneficiaries are primarily made up of your target market.
For example, I really enjoy working with my local education foundation, Optimists Club, Kiwanis, Boys & Girls Club, and 4-H groups. Just like you would partner up with a local children's resale boutique to promote your family photography, find non-profits that serve your target market / demographic – the people you meet and network with will be like-minded folks with similar values.
Watch your local paper for announcements of upcoming benefits and fundraisers to see what's going on now within your non-profit community. Your chamber of commerce is also a good resource for getting the scoop on local non-profits. Here in Bandera, we have a community foundation that in one way or another supports most of the local charities – if I was on the hunt for opportunities to help, I wouldn't have to go far to find the right partner.
The main goal here is to find a partner you can be passionate about working with, a group whose cause you really believe in. Volunteering your photography services can make for long hours and plentiful responsibility, but you'll never lack motivation knowing your time and talents are being put to good use helping people and causes you care about.
A word about taxes and deductions
With the ever-present caveat that I am neither a lawyer nor an accountant, here's what I know about the tax and deduction side of your fundraising efforts:
First of all, whatever you think you're worth, you're not – at least when it comes to deducting your service donations on your taxes.
If you donate a big photo package for a silent auction, a big gift certificate for a one-hour photo shoot on location and 10 hi-res digital files on CD…you can only deduct the few pennies the CD cost you.
The only deductions you can take off your taxes are the actual, tangible, out-of-pocket costs related to your donation. If you donate a shoot and 20×30 print worth $500, you can only deduct your actual cost of the print. You get no credit for your time or the market value of your art. Your art, time and talent, in Uncle Sam's eyes at least, ain't worth a dime.
As always in these matters, consult a CPA or Someone Who Knows What The Hell They're Talking About.
Next Steps
As a newly-minted part time professional photographer, your biggest challenge is rarely bringing your art up to salable levels – the challenge is finding buyers for your art. Donating your time, talent, ideas, and inspiration to charitable causes is good for the soul, the community, and the bottom line of your business. Put a call in right now to your chamber of commerce and ask where you can find some non-profits to donate your services to. If they can't help you directly, they will know who can.
Jump on Facebook and put up a post asking your friends to tell you what local charities they admire and/or have worked with in the past who they think could use your services. Let their good guidance inform your decision as to who to approach and offer your help to.
Make the call. Pick a charity, decide what ways you would like to help, then put in a call and find out how to donate your services. They will guide you by the hand so that you both get the maximum benefit from one another. Non-profits will rarely try to take advantage of you, but be sure that whatever work you do, you get a byline and credit for with any usage.
Get at least one photo project under your belt with the charity, evaluate how the experience went for you, and determine whether you'd like to work with that charity again. You might choose to work with a different charity, play the field, or even add a second charity to work with. Unless you have a particularly bad experience, keep in mind that the longer you're with a given charity, the more benefits you'll reap.
Brainstorm session: Make a top 10 list of local charities you would like to work with, based on your own research and the recommendations of peers. Which best aligns with your personal values? Which best aligns with your professional goals (exposure in your target market)? Which charities best balance the two? File this away in your Brainstorms folder.
My writing at PartTimePhoto.com exists to serve your needs as an amateur photographer making the transition to paid professional. I appreciate and welcome your readership, and invite you to click the free "Subscribe" link at the top of any page of this site.
What has been your experience partnering with non-profits to gain exposure and goodwill within the community? Leave a comment below, e-mail me, or call or text me at 830-688-1564.
Similar Posts: