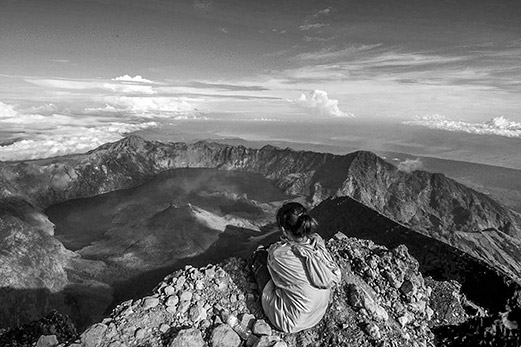 Image by Trekking Rinjani, https://www.flickr.com/photos/trekkingrinjani/
CCBY-SA2.0 (desaturated, contrast)
(Climbing the mountain of success – Part I)
(Climbing the mountain of success – Part II: The Dip)
(Climbing the mountain of success – Part III: Quitter)
"The greater the artist, the greater the doubt. Perfect confidence is granted to the less talented as a consolation prize." – Robert Hughes
Welcome to the top.
You've survived The Dip – the long slog of steady, incremental, sometimes imperceptible gains found in the messy middle of any journey.
You've made it through the forest, and again you can see the light. You've made a breakthrough, and you can see that if you just keep doing the work, you'll reach the top of this mountain – you'll achieve the success you dreamed of.
Conquering the forest is all about persistence in the face of not knowing what lies ahead; about making best guesses and remaining tenaciously driven to pursue your goal.
The final stretch is less about fighting the unknown than the known. You can see the cliffs and plateaus here. They're big, sheer, craggy, and unwelcoming.
But the path is clear again (even if it's straight up). You've been through enough to know that success is inevitable; you just have to persevere. The obstacle is, as always, the way.
You see that now. You have to have gone through it to see it.
It's your time.
Rise.
Rise.
"Start where you are. Use what you have. Do what you can." – Arthur Ashe
Successes big and small
The mountain of success is the experience; the journey. It is all that stands between you and your dreams. It's every moment of confusion, disappointment, fear, embarrassment, doubt, weakness. It's every little win, every inch of progress and ounce of faith.
Every startup photographer's personal mountain is different, but in many ways the same.
Whether that's $5 or $5,000 or $50,000 in annual revenue as a part time professional photographer.
Whether that's your first free shoot or first paid booking or a booked-solid 52 ideal clients in a year.
Whether that's a city, state, national, or international award for your art.
Whether that's your first $20 client or your first $2,000 client.
Whether that's pushing "Publish" on your web site and officially launching your business or looking back at your calendar and seeing yourself booked solid with clients you love for pay you're worth.
Whatever your definition of success is today, here at the top of the mountain, you've achieved it.
You have both my congratulations…and my sympathies.
Because you're a human being.
And human beings have frustrating (if vital) programming: an algorithm that redefines success with each success.
With each goal achieved, our brain moves the goalpost. If we bet our happiness on success – instead of the journey that takes us there – we are scientifically ensuring that happiness will always be two steps ahead of us.
No doubt, reaching the top of the mountain is an incredible, proud, necessary achievement.
But having conquered the mountain…
What's next?
Look around. What can you see from this incredible height?
More mountains.
More forests.
More peaks…
…more successes, waiting for you to claim them.
Success begets success.
You are now a conqueror.
You know you can do this. And having done it, there's no going back to normal.
What will do you do next?
Will you next climb the mountain of getting booked solid, 52 shoots a year, with a mix of free and paid shoots? All paid? All ideal clients?
Will you next climb the mountain of earning your first paying client? Second? A record sale? Growing your per-client average sale?
Will you next climb the mountain of doubling the variety of salable proofs you present to clients? Doubling your scenes to choose from at your favorite location? Doubling the emotional expression of your portraits?
Will you next climb the mountain of emulating and innovating on the best marketing practices of photographers on Instagram? Pinterest? YouTube? Your local newspaper? Your co-op marketing campaigns?
Will you next climb the mountain of taking your art and experience to a new level, creating ever-greater value for your clients? And commanding a greater fee for your time as a result?
Like the geography of Earth, there are limitless mountains to summit; countless opportunities to create, communicate, and command value within your market.
Having claimed victory over your first mountain, it's time to parlay that momentum into the next journey.
As promised, it does get easier.
But success is always a choice.
If you don't choose the next mountain, the next goal, the next milestone to strive for, life will choose for you.
The most empowering and intimidating truth in life is that you are in control.
You've got 360 degrees to choose from…
Where are you taking your part time photography business next?
"With ideas it is like with dizzy heights you climb: At first they cause you discomfort and you are anxious to get down, distrustful of your own powers; but soon the remoteness of the turmoil of life and the inspiring influence of the altitude calm your blood; your step gets firm and sure and you begin to look – for dizzier heights." – Nikola Tesla
(Climbing the mountain of success – Part I)
(Climbing the mountain of success – Part II: The Dip)
(Climbing the mountain of success – Part III: Quitter)
Next Steps
Here Now: Having seen the journey of the artist from the edge, to the forested climb, to the summit of the mountain – where are you in your journey? Are you still in the exciting, passion-fueled stage of seeing the mountain whole and ripe for claiming? Are you at the decisive moment of stamping down fear of the unknown to launch your business and step into the dark forest ahead? Are you deep in the forest, not knowing which way is up or what to do next or whether you're even getting closer to your dream? Have you battled through the forest and now you're overcoming the monstrous big challenges that remain between you and success? Are you at the top, overwhelmed with the many opportunities in sight? Put yourself in this story – which is really your story – and acknowledge the unique challenges and opportunities that exist just ahead of you. Wherever you are, you are blessed with an incredible opportunity: will you turn back, the same as so many others before you have? Or will you carry on, strive beyond, and overcome where those others have quit? The higher you climb, the bluer the skies, and rarified the air you breath. You get better with every choice you make to persevere, obstacles be damned.
Brainstorm Session: If you choose bravery – if you choose to persevere tenaciously in your journey as a part time photography – where do you see yourself in three months? One year? Three years? If you were to Choose Yourself and enable your best self, what would your business look like? Your art? Your life? File this away in your Brainstorms folder.
Subscribe Today: It's my calling to help you earn your first $5,000 to $50,000 as a part time professional photographer. I am truly grateful for your readership, and encourage you to subscribe to my e-mail newsletter at the top of any page of this site.
Do This Now: What's the biggest struggle holding you back right now? E-mail me your answer (yes, right now!), and let's make a breakthrough today.
Start The Conversation: If anything in this post has spoken to and inspired you, please comment below or drop me an e-mail. I'd love to hear how you're hustling to better your art, life, and business!
Similar Posts: