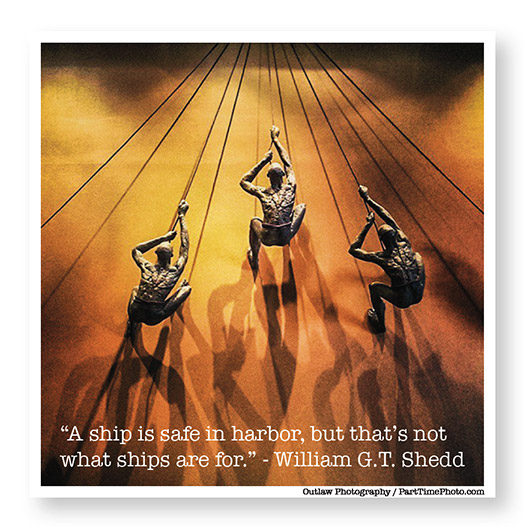 "A ship is safe in harbor, but that's not what ships are for." – William G.T. Shedd
Be brave this day.
Don't hold back the blessings of your art and business from your community.
You have gifts to give; don't be afraid to share them. Don't worry about your lens, your talent, your web site, your reputation, your procrastination, your business name, your fear. Don't wait for permission. Go, make art.
A photographer is safe at home, but that's not what photographers are for.
Next Steps
BRAINSTORM SESSION: Get out your pen and paper. What Next Steps have you been avoiding out of fear, lack of value, lack of courage? What's the worst case scenario if you take those steps? What's the best case scenario? File this away in your Brainstorms folder.
SUBSCRIBE TODAY: Book yourself solid shooting clients you love for pay you're worth. Don't miss out on my best stories and ideas: subscribe to my e-mail newsletter today at the top-right of any page of this site.
DO THIS NOW: What's the biggest challenge holding you back? E-mail me at james@banderaoutlaw.com. I read everything, and I look forward to helping you make a breakthrough today.
Similar Posts: