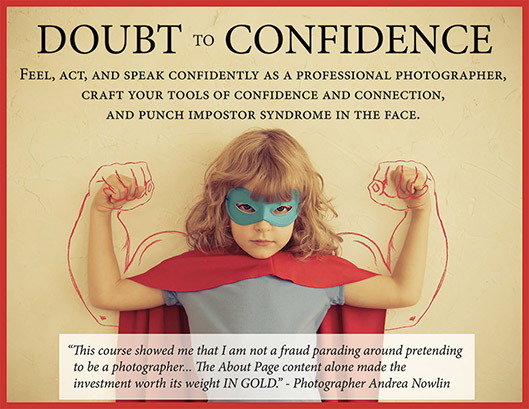 Ladies and gentlemen, dudes and dudettes —
The moment of truth is here. Like Cinderella's carriage, the deeply discounted launch price for Doubt To Confidence is going to disappear at the stroke of midnight, July 10, 2016.
This is your last chance to get Doubt To Confidence at this price, along with the weekly group coaching, 30 days of accountability check-ins via text message, and the swipe file of phone, e-mail, and conversation scripts.
Click here to enroll in Doubt To Confidence.
Steve and I are not sure when we will open access to the course again at this price, if ever – it could be months later or a year or more from now. And when we do, the offer will NOT be as good.
If you enroll today, you are going to get:
Complete access to all 8 modules of the Doubt To Confidence course, available immediately.
All of the Five Values of the Professional Photographer teaching and guided exercises and worksheets.
Access to the VIP Doubt To Confidence private Facebook community with all the other students embarking on this journey together.
All of the fire-starter recipes to craft your tools of confidence and connection, including your business name, logo, elevator pitch, About Page, vision board, daily affirmation, and so much more.
A three-stage, proven system for getting booked solid shooting clients you love for the pay you're worth.
All three amazing bonuses: weekly group coaching, text message check-ins, and the invaluable swipe file of phone, e-mail, and conversation scripts.
You can enroll right here for the next few hours at $197, or three monthly payments of $97.
If you are still on the fence, remember – there is a 100% money-back guarantee for 30 days after purchase. There is literally no risk to buy, go through the content and if you change your mind, get a full refund.
The course at this launch price closes tonight midnight at 11:59 PM CST, no exceptions.
Your turn, champ.
– James Michael
P.S. Have any last-minute questions? Simply e-mail me we will be happy to answer them.
P.P.S. Some folks have said they were confused as to how the Doubt To Confidence Course works. Here's a flowchart to show the journey we take you on, step by step, from self-doubt to self-confidence, to the tools you need to connect with your ideal clients, to a three-stage proven system to make those connections and book yourself solid (click or tap the image to open larger in your browser):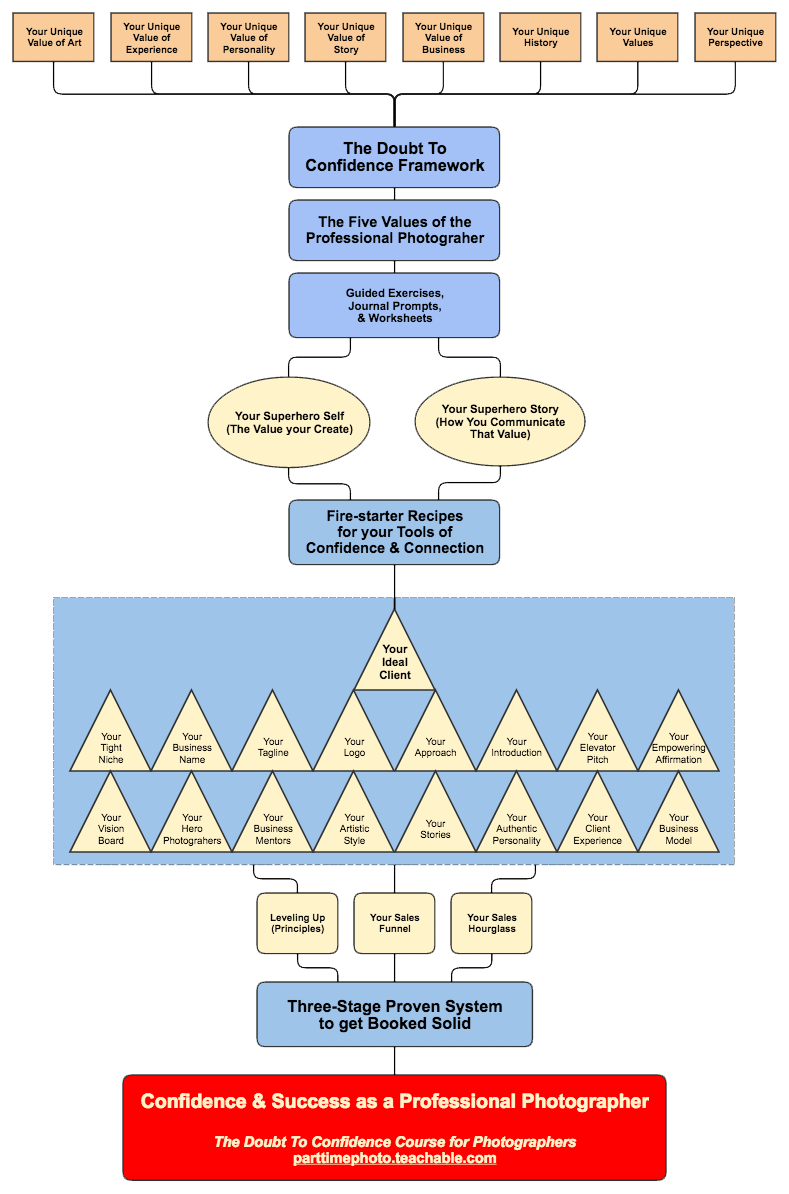 { 0 comments }